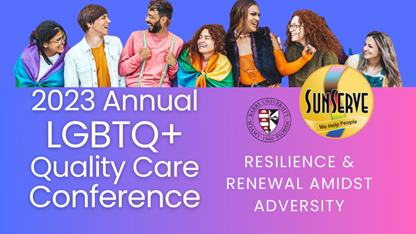 RESILIENCE AND RENEWAL AMIDST ADVERSITY
SunServe's Annual LGBTQ+ Quality Care Conference at Barry University
Friday, November 10, 2023. 
8:00 – 8:45 Registration 

 

8:45 – 9:00 Introduction to the Conference and Welcome from Barry University 

 

9:00 – 9:45 Keynote Address: Florida State Senator Shevrin Jones

 

10:00-11:00 Breakout session #1 

 

11:15-12:15 Breakout session #2

 

12:15 -1:15 Networking Lunch

 

1:30-2:30 Breakout session #3

 

2:45-3:45 Breakout session #4 

 
The LGBTQ+ community has been here before. Messages broadcasting alarm and fear to the majority population have surfaced again and again over the past 50+ years, preceded by silent disdain and unquestionable social standards that constantly marginalized the community. Adversity is hardly new to the queer community. Nor is the weaponizing of fear and misunderstanding. Fifty years ago, certain Florida voices sounded the alarm that the LGBTQ+ community's forward movement was a threat to society, and it needed to remain walled outside the margins. The AIDS crisis and the emergence of claims for the right to adopt and then the right to marry awakened hostile responses from powerful voices in the general population. With the increased power of social media, today's deeply hurtful misinformation about sexual orientation and especially gender identity has enabled a renewed emergence of harmful discourse. Powerful social influencers have turned up the heat and raised the volume.  
Risk and resilience are intricately intertwined within the lives of LGBTQ individuals, who often face unique risks due to societal prejudice, discrimination, and stigmatization. They may experience higher rates of mental health challenges, substance abuse, and interpersonal difficulties. However, the same community also exhibits remarkable resilience in the face of adversity. Their resilience is evident in their ability to navigate complex identities, build supportive networks, and develop coping strategies to withstand increasing challenges. In this conference, we will carefully consider all these factors and guide clinical professionals toward the best tools to make a difference in the lives of individuals and communities that make up the Queer rainbow.    
At the close of this conference, participants in various tracks will be able to:
1) Demonstrate an understanding of the foundation of LGBTQ+ clinical care. 
2) Demonstrate an understanding of the foundation of clinical care for transgender and gender-expansive clients 
3) Understand the emerging best practice approaches to youth and family services in LGBTQ care 
4) List key complex issues, emerging trends, and strategic approaches in clinical care for the LGBTQ community.  
5) Understand the potential impact of fast-moving changes on the socio-political landscape and inside the dynamic and evolving LGBTQ+ community.  
TRAINING OBJECTIVES FOR EACH TRACK
TRACK # 1 Foundation sessions focus on LGBTQ+ care across the life spectrum. These are designed especially for clinicians new to this community or in need of a "refresher" for clients in all age groups or in specific age groups [e.g., youth and seniors]. This track will help participants investigate important topics such as self-esteem vs. shame, the challenges of "coming out" and what that really means for specific age groups and racial-ethnic groups, the place of "LGBTQ+ pride" and self-advocacy, sexual expression concerns, current and emerging models for forming intimate partnerships and families.  
TRACK # 2 Trans care Foundations. The dominant narrative in public discourse about the complex experiences that get clustered under the umbrella term "transgender" is conflict-laden. That is not only true for the vast number of "lay" persons who have little or no experience with anyone who identifies outside unquestioned – even unquestionable--cultural assumptions about gender. This is also true for many clinical professionals. In this track, mental health professionals seeking guidance about working with transgender, gender expansive, or gender questioning persons of any age will gain a clear foundation for understanding the needs of each segment of this community, the essentials of quality mental health care, and up to date information about practice standards in Florida. 
TRACK # 3 Models of care for Queer youth and their families. Recent cross-currents of political and cultural discourse about how to care for children and youth who are emerging into self-awareness about their gender identity or their sexual orientation have placed new burdens both on families and on mental health providers groups that counsel them in agencies, schools, and private practice settings. These sessions will parse out the issues and examine methods of addressing those needs that are showing promise in agency settings.  
TRACK # 4 Current interventions and modalities that are proving most useful for LGBTQ+ care. There is a growing body of evidence about certain approaches to the delivery of care that are especially effective in addressing issues that are of great importance to the LGBTQ+ community. Participants in this track will see why various treatment models can help clinicians improve the lives of their LGBTQ+ clients and families with a focus on resiliency. 
TRACK # 5  Current Special Issues in LGBTQ+ care. Clinical professionals working in the LGBTQ+ community do well to absorb the implications of the many socio-political pattern shifts of our day. The LGBTQ+ community itself continues to awaken to the unique needs of divergent groups within the community. Changes in communication technologies have altered the landscape of care delivery. Challenges such as these are multiple. In this track, we will take a closer look at these important trends, pattern shifts, and challenges and discuss their impact on our approach to care.  
BREAKOUT SESSIONS IN THE WORKS…
BUILDING A WORKING ALLIANCE WITH LGBTQ+ CLIENTS 

 

CLEARING UP THE CONTROVERSIES ABOUT LGBTQ+ CARE

 

COUNSELING COUPLES NEGOTIATING MONOGAMY

 

CREATING A MORE COMPREHENSIVE APPROACH TO MENTAL HEALTH CARE &

 THE ROLL OF WELLNESS PROGRAMS

DIFFERENT DRUMMER GROUP – SUPPORT STRUCTURE FOR PARENTS OF CHILDREN ON A GENDER QUEST 

 

EXPANDING YOUR UNDERSTANDING OF THE MEANING OF GENDER

 

GAY WHILE GRAYING: THE RAINBOW IN THE SILVER TSUNAMI, LGBTQ SENIOR CARE 

 

HOW TO BE THE MENTAL HEALTH PROFESSIONAL ON AN INTERDISCIPLINARY TEAM AFTER FLORIDA STANDARD OF CARE CHANGES

 

KEY ISSUES IN SUPPORTING CHILDREN AND YOUTH EXPLORING GENDER

 

LESSONS LEARNED IN GROUP WORK WITH LGBTQ ADOLESCENTS

 

NEURODIVERSITY'S IMPACT ON TRANS YOUTH CARE

 

PRACTICAL SKILLS FOR ERADICATING SOCIAL ISOLATION FOR OLDER LGBTQ+ PERSONS 

 

PROVIDING CLINICAL CARE IN A NON-ACCEPTING OR HOSTILE ENVIRONMENT

 

RESTORING THE ATTACHMENT BOND BETWEEN LGBTQ YOUTH AND NOT-YET-ACCEPTING PARENTS

 

TEENS COMING OUT: A PRIMER ON YOUTH EXPLORING THEIR IDENTITY

 

THE FAR-REACHING IMPLICATIONS OF NEW TECHNOLOGIES: CHALLENGES AND OPPORTUNITIES FOR THERAPY 

 

TRAUMA-FOCUSED ACCEPTANCE COMMITMENT THERAPY FOR LGBTQ CLIENTS

 

WHEN FOOD IS AN ISSUE:  BODY AND MIND FOR LGBTQ+ CLIENTS

 
 AND MORE TOPICS TO BE ANNOUNCED SHORTLY  
PRESENTERS INCLUDE:
Research Professionals
Graduate School Faculty
LGBTQ+ Community Care Agency Experts
LGBTQ+ Specialized Clinicians in Private Practice
full list coming soon...
Costs, inclusive of full conference, plus continental breakfast and lunch buffet.
Before 11/1/2023
Regular:

$90

Non-profit agency employees:

$50

SunServe Collective Members:

$45

Barry U. Faculty and Field Instructors:

$45

Full-time Graduate students:

$20
After 11/1/2023
Regular:

$100

Non-profit agency employees:

$60

 

SunServe Collective Members:

$50

 

Barry U. Faculty and Field Instructors:

$50

 

Full-time Graduate students:

$25

 
CEUs. SunServe is a CEU provider [CEBroker #50-5152] for the following disciplines: 
Florida Board of Psychology [exp 5-31-2024] 
Florida Board of Clinical Social Work, Marriage and Family Therapy, Mental Health Counseling [exp 3-31-2025] 
Florida Board of Nursing [exp 10-31-2026] 
Note: CAPs can receive full credit for attending the conference by mailing a certificate of attendance to the Florida Certification Board