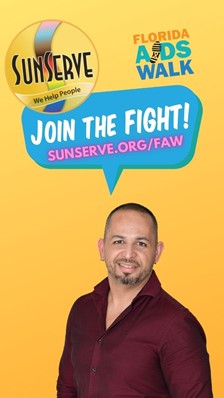 All donations made to SunServe through the Florida AIDS Walk fundraising event will be matched 100% by the AIDS Healthcare Foundation (AHF). PLEASE DOUBLE YOUR DONATION TODAY! 
CLICK HERE TO DOUBLE YOUR DONATION
AIDS Healthcare Foundation (AHF) is a non-profit, global organization providing services to over 877,000 people in 41 countries. As the largest provider of HIV/AIDS medical care in the United States and a truly independent voice in the mission to rid the world of AIDS, AHF's operating capital comes from its own self-created social enterprises. AHF Pharmacies, thrift stores, healthcare contracts, and other strategic partnerships generate funding that helps AHF provide medical and advocacy services globally, reaching and treating patients regardless of their ability to pay. AHF is currently leading a mass testing initiative to identify and treat the 25 million people who don't know they are infected. By advocating big goals – aiming to see an unprecedented 1 billion people tested each year – AHF hopes to eliminate older, more time-consuming methods of HIV testing and treatment. Since 1987, AHF has cared for thousands of people living with HIV and AIDS worldwide. As they create and implement unparalleled programs in new communities in the U.S. and abroad, AHF expands the delivery of healthcare and influence over policy with the sole aim of saving more lives.
To learn more about AIDS Healthcare Foundation, visit www.aidshealth.org.
A Copy of the official registration and financial information may be obtained from the Division of Consumer Services by calling toll-free (800-435- 7352) within the state. Registration does not imply endorsement, approval, or recommendation by the state.