SunServe's Annual LGBTQ Clinical Care Conference
Wrestling With Shame: The implications of faith, sex, and gender?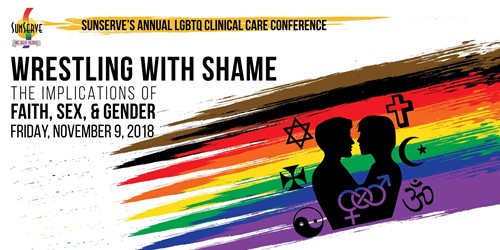 This cross-disciplinary training is for therapists and pastoral counselors seeking ways to approach topics that are often unspoken yet strongly influence client behaviors. So long as these too frequently shame encrusted concerns are kept secret or hidden, they cannot be processed, and many client issues will remain unresolved. In this symposium we will speak openly about the hidden topics of sex and sexual behavior, gender identity and gender expectations, and faith and spirituality in the counseling room. Specifically, we will look at the intersection of these topics with LGBTQ individuals who are socially marginalized because they are different from someone else's understanding of what is "normal" or culturally acceptable. We will help counselors get ready to consider the impact of faith, sex, and gender and what motivates thoughts, judgements, behaviors, and feelings in their LGBTQ clients and themselves.

Breakfast and lunch will be provided.

See Eventbrite link for cohort descriptions.

Faith Cohort: Dr. Jim Lopresti PhD, LMHC

Sex Cohort: Dr. David Wohlsifer PhD, LCSW

Gender Cohort: Dr. Kat Campbell PhD, LCSW

This conference is approved for 6 contact hours by:

The Florida Board of Clinical Social Work, Marriage and Family Therapy and Mental Health Counseling, The Florida Board of Nursing and the Florida Board of Psychology (SunServe is CEBroker Provider #50-5251, exp. 03/2019. 10/2020, 05/2020 respectively).

SunServe uploads to CEBroker.