PRIDE SKATE NIGHT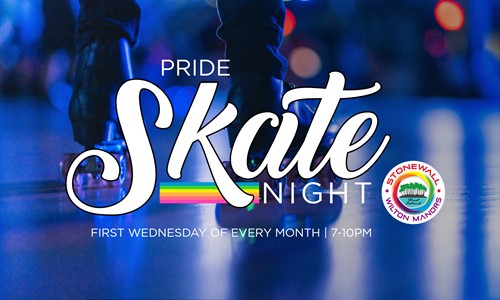 Stonewall Pride Skate Nights are a fun, family friendly event benefiting the Wilton Manors Stonewall Parade & Festival. Bring friends and family along for classic fun on quad roller skates in our Arena Roller Rink and help support our local LGBTQ community.
$5 from every ticket sold will go directly to the Wilton Manors Entertainment Group (WMEG), the creators of the Stonewall Parade & Festival. The Festival is held in June on the streets of Wilton Manors located in Greater Fort Lauderdale, FL. This star-studded event features local community heroes, dignitaries, and organizations and attracts more than 25,000 families and friends.
Pride Skate nights occur on Wednesday evenings from 7-10pm, once a month inside the Arena Roller Rink. Each month is a new themed event along with a Live DJ, Guest Appearances, Drag Queen performances and more.