Identity Journey Workshop
A journey through 4 parts of our unique identity while engaging in art as a form of self-expression and elf-exploration.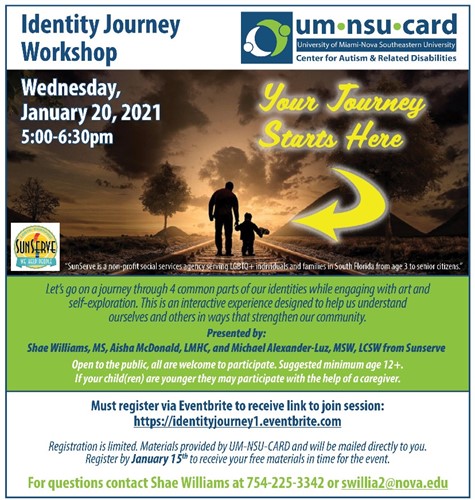 Let's go on a journey through 4 common parts of our identities while engaging with art andself-exploration. This is an interactive experience designed to help us understand ourselves and others in ways that strengthen our community.
Presented by: Shae Williams, MS, Aisha McDonald, LMHC, and Michael Alexander-Luz, MSW, LCSW from Sunserve
Open to the public, all are welcome to participate. Suggested minimum age 12+. If your child(ren) are younger they may participate with the help of a caregiver.
Must register via Eventbrite to receive link to join session
"Registration is limited. Materials provided by UM-NSU-CARD and will be mailed directly to you. Register by January 15th to receive your free materials in time for the event."
"SunServe is a non-profit social services agency serving LGBTQ+ individuals and families in South Florida from age 3 to senior citizens."
For questions contact Shae Williams at 754-225-3342 or swillia2@nova.edu