Hunters Nightclub Karaoke Contest
Are you the next 'Wilton Manors Idol'? Find out at Hunters Nightclub'-Sing Your Ass Off Karaoke Contest! Special guest Emcee Jennifer McClain invites you to 'Sing Your Ass Off'...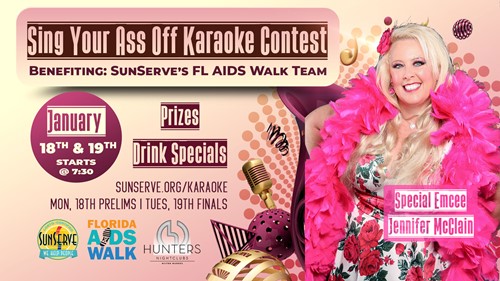 To do list:
- Register @ SunServe.org/Karaoke
- RSVP @ SunServe.org/RSVP1
- Pick the perfect song
- Invite ALL your friends to cheer you on
- Sing your ass off to victory!
This is a special 2-night fundraiser for the SunServe FL AIDS Walk Team. Every dollar raised will be matched 100% by AHF! How amazing is that?
Night 1: Mon, Jan 18 are the preliminary rounds
Night 2: Tue, Jan 19 are the finals
This is a cannot miss event hosted by our great friends at Hunters.
Any questions please click here: SunServe.org/Contact