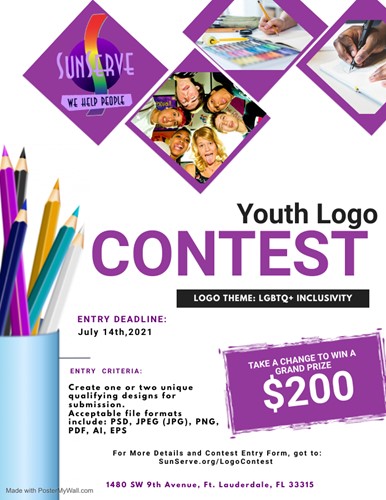 Official Rules
The purpose of the contest is to design a logo for SunServe - Youth. The logo may be used in all media – including online, print, on merchandise and other visual collateral. Following are the official contest rules:
To be eligible, each entrant must be between the ages of 12 and 21 & identify on the LGBTQ+ spectrum.
Individuals may submit no more than one entry.
All submitted work must be the original work of the entrant(s) and must not include, be based on, or derived from any pre-existing or third-party designs, trademarks, or copyrighted images.  Any evidence of this will result in disqualification.
All entries will become the property of Sunshine Social Services. By submitting an entry, each entrant agrees that any and all intellectual property rights in the logo design are deemed assigned to Sunshine Social Services.
Except where prohibited by law, an entry submission into this contest constitutes permission to use the winner's name, likeness, prize information, and information provided on the entry form for publicity purposes, without further permission or compensation.
Sunshine Social Services reserves the right to modify the winning logo to better fit the needs of the
The decisions of the Selection Committee will be final.
The selected winner MUST submit a high-resolution copy of their design and the source files used to create the design in addition to font names and other relevant data.
All entries must include some variation of a yellow or gold "sun", rainbow pride colors, and the iconic SunServe "S".
How to Enter
To enter the SunServe Youth Logo Design Contest, eligible participants must:
Create one unique qualifying designs for submission.
Acceptable file formats include: PSD, JPEG (JPG), PNG, PDF, AI, EPS
Submit your completed design on our online entry page: LINK LOCATED BELOW by Wednesday, July 14th, 2021.
Selection Criteria
A Selection Committee comprised of the SunServe staff will evaluate all entries based on the following criteria (though other criteria may be considered):
Relevance – Does the entry align with the theme and goals of SunServe Youth?
Originality – Does the composition exhibit original design, creativity, and imagination?
Aesthetic Quality – Does the submission command attention? Does it display visual balance and color coordination? Do all the elements work together to create a unified and appealing design?
Once the selection committee has evaluated all entries, they will choose the top 5 that will go onto community voting via social media. Community members will be allowed one free vote per day with the option to cast additional votes through donations. For example, a $20 donation will allow for 20 votes for a single entry.
Voting will begin July 18th and end on July 25th, The winner will be announced on July 26th via our social media pages and newsletter.
Prizes
The three top designs will receive the following awards:
3rd Place: $50 and a special Swag Bag of new SunServe Youth merchandise
2nd Place: $100 and a special Swag Bag of new SunServe Youth merchandise
1st Place: $200, spotlight features in South Florida Gay News, on all SunServe Youth Social Media pages, and on the SunServe Youth webpage, Exclusive Swag Bag with one-of-a-kind merch.
All contestants will be invited to SunServe's Back-to-School Bash on August 14th where the Top 3 designs will be featured, and the winners will claim their prizes. Contestants are encouraged to invite family as this will be an outdoor, family-friendly event.