Counseling
Life Coaching & Case Management
Individual, couples, group and family counseling is available.
*Note that youth receive special consideration if a wait list is being experienced; parental permission must be obtained for minors seeking counseling.*
Lambda South – Recovery groups (AA, NA, CMA, CoDa), sober social events, and post-addiction rebuilding resources
For more information please call  (954) 761-9072 or visit http://www.lambdasouth.com
Henderson Behavioral Health– Y.E.S Team (Youth Emergency Services Team) is available 24 hours a day 7 days a week, including holidays. They will help with youth from age 2-17. This includes on-site crisis intervention in the home, school, or residential settings such as shelters. For more information please visit http://www.hendersonbh.org/index.php
TIP Case Manager
The TIP program promotes the development of life skills, academic, and employability skills to help youth transition successfully into healthy young adulthood. Program serves youth ages 14-29 with behavioral health issues and/or special needs to achieve independent living skills and reach their fullest potential. Youth are encouraged to explore their interests and futures in areas such as employment and career, education, housing, personal effectiveness/well-being, and community-life functioning.
Open Hearts Program
Open Hearts Program serves youth ages 13-21  needing assistance being connected to safe and affirming resources for Individual/Family counseling services, Peer support groups, Connecting/Reconnecting to school, Healthcare, HIV/STD Testing/ Substance Abuse, Self-harm Behaviors  Housing Resources, Volunteer/community services and Employment resources.
The Open Hearts Program is now accepting new clients and is a volunteer program which promotes LGBTQA Youth connecting services through Informal Case management, Life coaching and mentoring. The Open Hearts Program also welcomes extended support to Civil Citation/Diversion Youth Cases.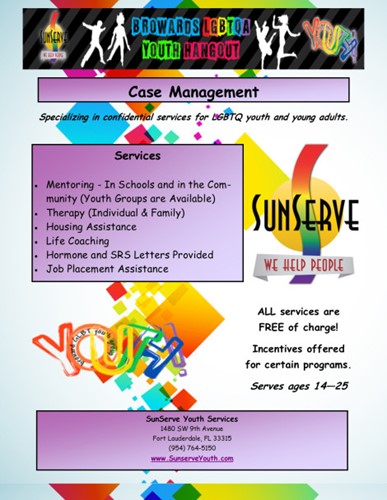 Youth & Events Navigation
SunServe Youth