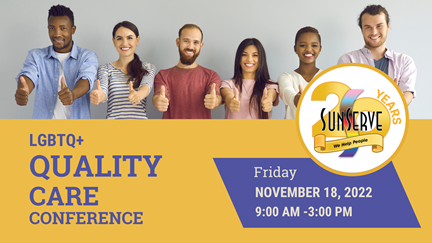 N e w  C h a l l e n g e s / N e w  A p p r o a c h e s  t o  C a re
FRIDAY, NOVEMBER 18, 2022
In partnership with faculty from the Barry University Schools of Social Work and Education

  At the Main Campus
  Miami Shores, FL
AGENDA
8:45                 Registration opens [coffee, tea, breakfast pastries served]
9:15                 Welcome Session
9:30 - 11:00     Panel Session
11:00 - 11:15   Break
11:15 - 12:45   Breakout Sessions I
12:45 - 1:45     Networking Lunch [lunch provided]
1:45 – 3:15      Breakout Sessions II
OPENING PANEL SESSION: EMERGING ISSUES FOR LGBTQ COMMUNITIES
What are we learning about the community's needs? How might all that impact our work as clinical professionals?
Panel presentations will be focused on helping participants generate/pose the right questions for our time.
Panelists include legal, political, medical, and mental health experts along with persons directly impacted by an evolving national and local environment. 
Topics include
New Political Pressures- Life in the Crosshairs of Political Warfare.
Florida "Don't Say Gay Law" and its impact on children/youth, their families and their schools.
Emerging/Evolving Medical Issues: When Healthcare Becomes a Problem.
Florida Surgeon General's challenge to trans care for children/youth and families.
Intersectionality- the Challenges of Cultural Humility.
The two-fold challenge of being LGBTQ and a person of color/new immigrant or member of another marginalized group.
The uniqueness of polyamorous relationships and diversity in sexual practices
FOLLOW-UP SESSIONS: CREATIVE APPROACHES TO LGBTQ CARE IN OUR TIME
[Bios of presenters and session descriptions with learning objectives soon to follow. Watch this space]
Introduction to "Affirm," an Evidence-Based Approach to LGBTQ Care
Helping People Tell Their Stories: Methods for Building Effective Support Groups for Communities Under Challenge
The Far-Reaching Implications of New Technologies: Challenges and Opportunities for Therapy
Attachment-Based Interventions for Families of LGBTQ+ Children and Youth
When Claiming One's Identity Hurts: Trauma-informed Therapies That Counter the Life-long Impacts of Shame
Models of Consultation and Support for Therapists in a Changing Delivery System
COSTS
EARLY BIRD REGISTRATION: By NOV 10
$80 Full fee
$50 Non-Profit Organization Staff or Volunteer
$40 SunServe Collective Member
$40 Barry University Faculty or Field Advisor
$20 Graduate Student in SW, MHC, MFT or Psychology
REGULAR REGISTRATION: After NOV 10
$90 Full fee
$60 Non-Profit Organization Staff or Volunteer
$50 SunServe Collective Member
$50 Barry University Faculty or Field Advisor
$25 Graduate Student in SW, MHC, MFT or Psychology
REGISTRATION: Click here to register
THE CEU PROCESS.
SunServe will upload 5 CEU contact hours to CEBroker for Florida licensed psychologists, social workers, mental health counselors, marriage and family therapists, and nurses. Florida CAPs can receive CEUs by submitting Certificates of Attendance to the Florida Certification Board. All participants, whether licensed or not, will receive Certificates of Attendance in exchange for completed evaluation forms at the end of the training day.
SunServe is Florida DOH CEU provider 50-5251. Fl Board of Psychology [exp 5/2024]; FL Board of SW/MFT/MHC [exp 3/2024]. FL Board of Nursing [exp 10/2022] SunServe participates in: